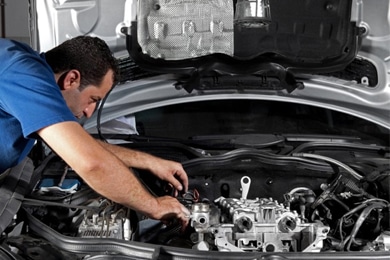 Choosing the Jeff Wyler Springfield Hyundai service department gives you:
Hyundai Maintenance and Auto Repair
When it comes to maintenance, Jeff Wyler Springfield Hyundai is proud to have more positive online reviews than most other greater Dayton Hyundai dealerships, and we welcome you to experience for yourself our first class service. Don't settle for less than the very best, let our professional service reps diagnose, fix, repair and service your new or used vehicle.
Hyundai Service Appointment
Your first step is to schedule your service appointment with our service advisors. You can call us, or use our convenient online service appointment scheduling tool. You are also welcome to visit us at our Jeff Wyler Springfield Hyundai location. Check out our directions and hours for the Jeff Wyler service department. Once you arrive for your service appointment, you are welcome to relax in our comfortable waiting room which features free cable TV, free Wi-Fi wireless Internet, free coffee, and more. A shuttle service is available (please call ahead for more details). Your vehicle will be inspected and any necessary repairs or services will be identified. Our friendly service advisor will then consult with you about the needed service. Your vehicle will then be serviced using genuine OEM parts and accessories which are guaranteed for performance. Upon completion, you can pay with cash, credit card, or check. Your convenience and full satisfaction is our priority, and we will work to accommodate your needs as best as possible.
Brake Repair, Oil Change, Tires, Batteries, Transmission Repair and More!
The best way to prevent major repairs is to maintain your vehicle properly. Our factory trained technicians are very familiar with the recommended maintenance for all vehicles. Common repairs include fixing brake problems, brake repair and maintaining brake systems, Transmission repair and transmissions rebuilt, tires and wheels, including discount tires, Car battery replacement with several car batteries to choose from, and Oil changes.
Hyundai Service Coupons and Specials
Jeff Wyler Springfield Hyundai posts new service coupons and specials each month for our customers. We usually have an oil change coupon posted each month, if not make sure to call us for any oil change specials. Make sure to check out the latest deals to help you save money while keeping your vehicle in optimal driving condition.
Hyundai Service and Maintenance Schedule
Jeff Wyler Springfield Hyundai strongly encourages you to keep on top of your scheduled maintenance and factory maintenance to ensure your vehicle is running both safely and optimally for a long time. These intervals include normal service, preventative and preventive maintenance, recommended maintenance, as well as tune up service. You can find your Scheduled Maintenance Intervals in your owner's manual, or call us and we will assist you. Here is a list of many of the Scheduled Maintenance Procedures:
Inspect and rotate tires
Inspect Air Filter
Inspect accessory drive belt
Inspect battery, including fluid, lines and connections, and overall condition
Inspect ball joints, front ball joints
Inspect brakes lines, hoses and connections, brake wear, brake fluid
Inspect front and rear brakes, disc brakes, drum brakes
Inspect CV-joint boots
Inspect chassis and body fasteners, tighten as necessary
Inspect clutch fluid (if applicable)
Inspect coolant fluid level and cooling system hoses
Inspect driveshaft
Inspect EVAP canister filter
Inspect exhaust system and heat shields
Inspect fuel lines and hoses
Inspect halfshafts and boots
Inspect power steering fluid, steering operation and linkage
Inspect rear differential fluid
Inspect throttle body
Inspect transfer case fluid
Inspect transmission fluid
Inspect vacuum and crankcase hoses
Inspect and adjust idle speed
Inspect and lubricate driveshaft U-joints, locks and hinges
Replace air filter, cabin air filter, coolant, engine oil and filter, timing belt
Replace engine oil and filter
Check fluid levels, tire condition and pressure (including spare), windshield wiper and washer function, horn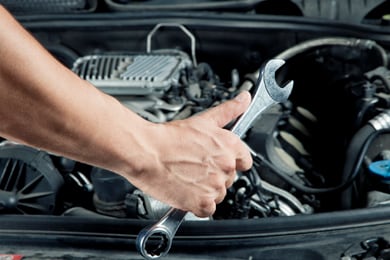 Your Greater Dayton Hyundai Dealership
Our highly satisfied auto repair and maintenance customers come from throughout Ohio, Kentucky and Indiana, including Dayton, Springfield, Columbus, Urbana, Troy, Fairborn, Piqua, Yellow Springs, Huber Heights, Xenia, Beavercreek, Kettering, Bellefontaine, Wright Patterson Air Force Base, Tremont City, Lawrenceville, and Northridge.